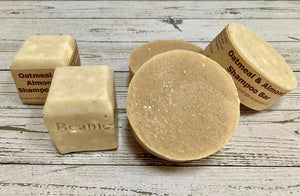 Shampoo Bar - Oatmeal & Almond
Here it is!  The long awaited and much requested shampoo bar.  The Soapy One is meticulous and this wasn't going get general release until she was 100% happy.  I have been a happy guinea-pig for over a year on this.  Vegan Friendly.
Not only is a shampoo bar better for the environment (no more plastic bottles) it's great for your hair. This nourishing shampoo bar, with a hint of orange essential oil, has been formulated to be kind to your hair and scalp. Crammed full of nourishing oils & butters, known for their moisturising, and strengthening properties, blended with orange essential oil and oatmeal which will be kind and soothing to your scalp.
Note – if you have used commercial shampoo for a continuous length of time, you may need to acclimatise your hair to using an all-natural product. You might need to continue to use a conditioner (or ACV rinse) for the first few shampoos, but your hair will soon adjust to the cleanliness of natural products.  Any questions, just pop us an email at info@beanieboat.com
On longer hair, try rubbing the shampoo bar in your hands until you have a creamy foam and run your fingers through your hair to distribute the shampoo evenly.
Care for your shampoo bar:  What?  Care for it?  Are you kidding?  No, you've spent good money on this, it smells amazing, and it's made with beautiful, ingredients and untold hours of love - you want it to last. 
Keep it dry.  Nobody likes soggy.  Your shampoo bar is happiest when allowed to dry out fully between uses. The easiest way to do this is to keep it on a soap dish which allows water to drain away and air to circulate.  Pop a nice bamboo soap dish into your basket here.
Average weight: 
Small: 85g avg.
Regular: 116g avg.
Ingredients:
Sodium Olivate (Olive Oil), Sodium Cocoate (Coconut Oil), Sodium Cocoa Butterate (Cocoa Butter), Sodium Shea Butterate (Shea Butter), Sodium Castorate, (Castor Oil), Sodium Sweet Almondate (Sweet Almond Oil), Aqua, Citrus Aurantium Dulcis Peel Oil, Prunus Amygdalus Dulcis (Ground Almonds), Glycerin, Avena Sativa Kernal (Oatmeal)
Essential oil allergens: Citral, Linalool, Limonen
Safety: For external use only, keep away from eyes.  If irritation occurs, discontinue use.

Environmental: As a small artisan business one of our main aims includes finding sources that are as environmentally friendly as possible. We recycle as much as we can on the boat and on our travels, as well as trying to use minimal packaging, with what we do use being recycled.  We do have to seal the soaps, so have done so in a thin compostable wrap.  We hate plastic and are diligently looking for sustainable bags for popping in the post that will still allow your goodies to arrive in the condition you expect them to be