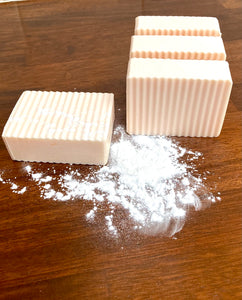 Powder Fresh
The creaminess in this soap comes from the added clay which is so beneficial to the skin, but that's not the best bit… the smell is so addictive (well to me anyway). We all recognise it, especially a certain brand. It smells clean and warm, I don't know how that works but imagine the smell of a bouncing baby straight out of the bath… mmm, so nice.
 Why add clay to our already beneficial ingredients…
One of our favourite soap additives is clay, especially French clay. Not only does it add natural colour (clay is a mineral found in the soil) it contains a host of minerals that are beneficial to your skin. One of its main features is that it absorbs toxins and impurities which is why it is often used in face masks. Pink clay is suitable for any skin type, but people with sensitive skin especially praise this type of clay for being so gentle and delicate with already problematic and troubled skin.
Vegan friendly
How do we do it?
This soap is made from base ingredients that are natural/nature identical and boost the amount of glycerin that will remain on your skin. Glycerin is the magic ingredient (…a humectant, for the geeks), that continues to draw miniscule moisture droplets from the air keeping the skin nourished long after you've finished showering.  
Care for your soap:  What?  Care for soap?  Are you kidding?  No, you've spent good money on this, it smells amazing, and it's made with beautiful, ingredients and untold hours of love - you want it to last. 
Keep it dry.  Nobody likes a soggy soap.  Your soap is happiest when allowed to dry out fully between uses. The easiest way to do this is to keep it on a soap dish which allows water to drain away and air to circulate.  Pop a nice bamboo soap dish into your basket here.
Average weight: 
Regular: 150g avg.
Ingredients:
Ingredients: Plant based Glycerine, Aqua, Sorbitol, Sodium Palm Kernalate (Sustainable Palm Oil), Sodium Stearate, Parfum, Colour CI51319, Clay CI77004, CI77891, Sodium Oleate, Sodium Chloride (Salt), Citric Acid, Sodium Citrate, Pentasodium Pentatate, Tetrasodium Etidronate
Parfum Allergens - lpha-iso-Methylionone, Benzyl Alcohol, Benzyl Benzoate, Cinnamyl Alcohol, Citronellol, Coumarin, Geraniol, Linalool
Safety: For external use only, keep away from eyes.  If irritation occurs, discontinue use.
Environmental: As a small artisan business one of our main aims includes finding sources that are as environmentally friendly as possible. We recycle as much as we can on the boat and on our travels, as well as trying to use minimal packaging, with what we do use being recycled.  We do have to seal the soaps, so have done so in a thin compostable wrap.  We hate plastic and are diligently looking for sustainable bags for popping in the post that will still allow your goodies to arrive in the condition you expect them to be, dry and perfect.