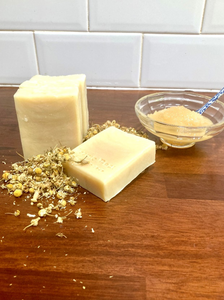 Sweet Chamomile
A lovely creamy soap made with fresh honey 'from bees we know' and loaded with chamomile which has not only been added in its pure form but also infused in pure olive oil to linger as a background scent of flowers and add a natural colour.
Both honey and chamomile are well known for their beneficial properties and add a sense of luxury to this creamy soap.
Why add honey and chamomile to our already beneficial ingredients…
Honey is well known as a luxury addition to cosmetics, because of its antioxidant and humectant properties, honey is great for dry or damaged skin. It is also antimicrobial, and an antioxidant so kills bacteria and helps skin heal faster (my granny swore by putting raw honey on burns). In soap, it also adds to the lather, giving you a nice creamy but also bubbly soap bar.
When setting yourself up for a good night's rest, chamomile tea is a guaranteed way to instil a sense of calm and relaxation, but it isn't only great for sipping. Just as chamomile helps calm the mind and body, it has similar effects on the skin. In fact, chamomile was also historically used by Egyptians…think Cleopatra, Greeks, and Romans to treat wounds, moisturise, and promote healing.
How do we do it?
This soap is made using the 'Cold Process' traditional technique of soap making where the oils and butters are gently heated just enough to melt them and start the saponification process. Keeping the temperatures low retains the properties of the oils and butters.  Our base ingredients in every bar of 'cold process' soap are olive oil, which is gentle and kind to the skin, blended with shea butter for added moisture, castor oil and coconut oil, all of which are rich in antioxidants, vitamins and nutrients with the added bonus of creating a luxurious and creamy bar with a lovely lather.
Care for your soap:  What?  Care for soap?  Are you kidding?  No, you've spent good money on this, it smells amazing, and it's made with beautiful, natural ingredients and untold hours of love - you want it to last. 
Keep it dry.  Nobody likes a soggy soap.  Your soap is happiest when allowed to dry out fully between uses. The easiest way to do this is to keep it on a soap dish which allows water to drain away and air to circulate.  Pop a nice bamboo soap dish into your basket here.
Average weight: 
Regular: 130g avg
Ingredients:
Olea Europaea (Olive Oil), Sodium Cocoate (Coconut Oil), Sodium Shea Butterate (Shea Butter), Sodium Castorate (Castor Oil), Aqua, Glycerin, Parfum, Anthemis nobilis (Chamomile) Flower Propanediol Honey Extract (Natural Honey).
Parfum Allergens: Benzyl Salicylate,Coumarin, Eugenol,Hexyl Cinnamal, Liliestralis 22, Linalool, d-limonene
Safety: For external use only, keep away from eyes.  If irritation occurs, discontinue use.
Environmental: As a small artisan business, one of our main aims includes finding sources that are as environmentally friendly as possible. We recycle as much as we can on the boat and on our travels, as well as trying to use minimal packaging, with what we do use being recycled.  We do have to seal the soaps, so have done so in a thin compostable wrap.  We hate plastic and are diligently looking for sustainable bags for popping in the post that will still allow your goodies to arrive in the condition you expect them to be, dry and perfect.